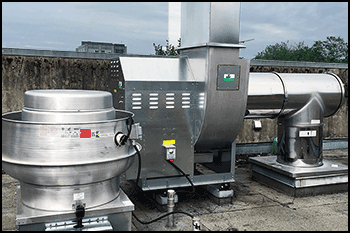 Kitchen Ventilation Systems
Your restaurant starts with a vision, your vision! Every aspect and detail from the mood you set in the dining area, to the appliances that bring your food to life. But nothing is more important to bringing it all together than your ventilation system. The ventilation system is often overlooked, and if not designed and installed properly can bring hardship and headache along with some heaty expenses to an unsuspecting owner.
Installing a kitchen ventilation system is extremely intricate and demands that the installer understand the entire system, Building Codes, Fire Codes and UL/C restrictions involved. Not knowing every aspect could hinder and ultimately delay or prevent a kitchen from successfully operating or opening under todays strict conditions.
Grease Ducks technicians are highly trained and continue to train with each manufacture on the systems they provide and the systems we sell. Our entire focus is the kitchen ventilation in its entirety including the exhaust system, make-up air unit and fire suppression system to ensure that they are installed and smoothly integrated to ensure years of hassle free operation.
Related Products & Services